Bliss Cruise: Sea Days Define the Experience!
Sea Days really do define the Bliss Cruise experience. The sea day is really what most people imagine when they think 'Swinger Cruise.'
It's so much fun to have all the couples onboard the ship enjoying everything to the fullest.
What can you do on a Bliss Day?
Mix, Mingle & Connect: There is no way you won't make connections if you want them. Bliss Days feature Couples Speed Dating and Hosted Meet/Greets galore.  Meet couples by age range or special interest:  (Young Couples, Kinky, Bi-Couples, Sexy & Silver, Hall Pass & More)
Have More Sex at Sea! Bliss is known for their fantastic themed playrooms! During a Bliss Day you can play under the sun and stars in the outdoor playroom.  Indoors you will find fully equipped and sensually appointed couples-only play areas and an edgy fetish fantasy play area.
Plan for a Nooner – You can even invite new friends!
Show off your bikini, tan your ta-ta's or party at the pool fully nude!  The morning pool vibe is chill – and the excitement builds as the sun gets hotter.  This party is in full swing come early afternoon!
Learn Something New to deepen your connection and expand your horizon.  Bliss Days feature a schedule full of sexy seminars taught by world renowned sexperts. Topics range from Swinging 101, Tantra, Oral Sex, Squirting, Toys, BDSM, Massage, Erotic Hypnosis, and more. If it's fun, you can bet Bliss offers a class on it!
Get Body Painted – Get ready for the theme party that night!
Relax! Sleep in late, snuggle and giggle about the fun you had last night.  Order room service and linger over breakfast on your balcony. Bliss Days are perfect because we are at sea and there really isn't any place you have to be!
Bliss Cruise Jewel of the Seas Itinerary – Features 4 Bliss Days!
** All Itineraries subject to change without notice ***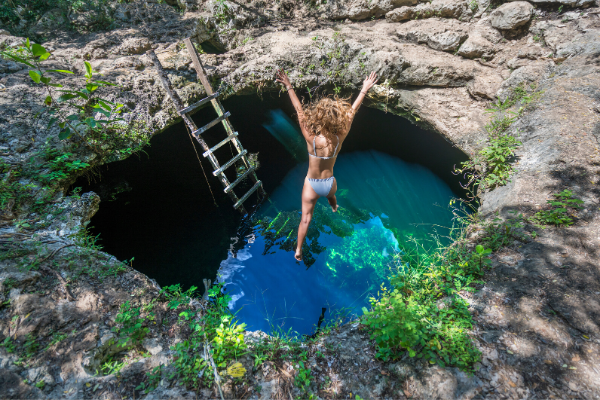 Costa Maya, Mexico
Costa Maya, once a trading post for the Mayan Empire, is located in the Mexican Caribbean and is best known for its jungles, beaches, lagoons and Mayan ruins.
Recent development and modern port facilities are making Costa Maya the perfect port of call.
Check out the Mayan Pavilion Park, which has everything: Mayan handicraft centers, swim-up bars, great traditional restaurants, saltwater pools, a 650-seat amphitheater, Mayan art and architecture, amazing water sports and great shopping.
Take an exciting ride on a ATV or Mini Rhino through the jungle. Then take a break, relax and soak up the famous Mayan sun at Uvero Beach.

Cozumel, Mexico
Cozumel is has a perfect combination of party and tranquil seas.   Really there is something for everyone.  Be on the look out for a great beach day party from Bliss Cruise.  On past cruises they have rocked a big all inclusive beach party.  There are also great options for a bar crawls, drinking tequila tourist style or souvenir shopping the streets of San Miguel.
Trek to the other side of the island for a beach and bar day at Coconuts! 
Seeking a bit more authentic? There are ruins, beaches and plenty of small beach clubs that will let you rent a chair and enjoy cold beer and tasty chips for the day.  Plus, the waters around Cozumel's sheltered coral reefs make this one of the best snorkeling areas in the world.
Bliss Cruise Jewel of the Seas – Information
Join us on the Jewel of the Seas, a Radiance Class ship. Bliss provides their flagship product with these amazing large-ship trips. You will not find a more glitz-and-glam Lifestyle Charter of this size from any other operator. Practically a floating city of new, adventurous, ready-to-have-fun couples! For this ship in particular, the dining is stellar, the accommodations are second-to-none, the service provided cant be beat, and of course the other couples on board complete this spectacular vacation.
Bliss Always Brings The Party – Dance The Night Away…
Bliss is continually setting the bar higher and higher for lifestyle partying at sea. Sailors from our past trips know what to expect with their cruise. Sexy pool parties to cool off by day plus nightly themed dances to heat up the night . Party 'til you the sun comes up on the Bliss Cruise Jewel of the Seas in 2022!
Luxury Style and Amenities – Live the Luxurious Life at Sea…
Bliss will be sailing on one of the top leading luxury cruise lines this time around. Go big or go home on this sailing city at sea!
Breathtaking Dining Experience – Savor the sensual side to dining…
This cruise will delight you with multiple delicious dining options. Included in your cruise fare are access to the Main Dining Room, and the buffet, Windjammer. On top of those selections you also have the choice of the many Specialty restaurants onboard. We encourage venturing outside the box and try as many as you can! On board there is Izumi, Chops Grille, and Giovanni's Table!
Bliss Cruise Jewel of the Seas – Theme Nights
Looking for a little extra fun on an already fantastic Bliss Cruise Jewel of the Seas trip? Enjoy dressing up (or dressing down) and live a night of fantasy with the Theme Nights on our time at sea! The theme parties on this cruise are designed to help you step into expressing your inner desires.  Immerse yourself in the fantasy of being someone else for the night. Past cruisers always tell us that they had a better time meeting new friends and breaking the ice when they dressed up!
You can go all out on a costume or simply echo the theme with an accessory.  Not in the mood? No problem it's all about doing your own thing with your partner and having a wonderful time.
Bliss Cruise Jewel of the Seas – Ship Details
Revitalized in 2016 during a $26 million dry-dock, and loaded with onboard attractions, Jewel of the Seas offers countless ways to spend your days between ports, or after a thrilling day onshore. Scale the Rock Climbing Wall, Go all-in at Casino Royale, Savor dry-aged steaks at Chops Grille or the multitude of other amazing Specialty Restaurants on board!
Bliss Cruise Jewel of the Seas – Dining Details
This is important to know:  Unlike a regular cruise, there are no dining requirements on the Bliss Cruise Jewel of the Seas sailing.
No Assigned Tables!
No Assigned Dinner time (i.e.: no early or late seating)
Tip: Most cruisers prefer their dining around the 6:30-7 pm hour, which results in a slight delay in getting a table immediately. For less wait time, we recommend dining a little earlier or later at night.
Want to have a more intimate dinner with you and your partner or new friends? Try one of the stellar Specialty Restaurants on board the Jewel!
Chops Grille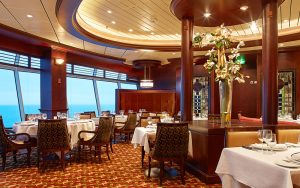 For more than a decade, the chefs of Chops Grille have proudly presented quality, hand cut steaks at this hallmark Royal Caribbean restaurant. Now, they give you a fresh twist on a favorite, with a revamped menu that brings contemporary flair to traditional steakhouse offerings. Most intriguing: our exceptional prime meat. This prime beef is joined by Maine lobster, grilled branzino and other succulent dishes paired with addictive sides and irresistible desserts.
Giovanni's Table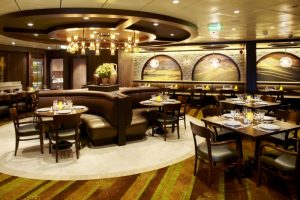 You could call this 'Al Dente Indulgence'. Rustic Italian dishes are served with contemporary flair at Giovanni's Table, a RCCL favorite. This casual trattoria serves up a seemingly endless selection of the Italian classics, like Gnocchi, Melanzane alla Parmigiana, Risotto, and Pasta Bolognese, just to list a few! From the mouth-watering fresh pastas to the carefully braised meats and stews, you can tour all of Italy without ever leaving the ship.
Izumi Sushi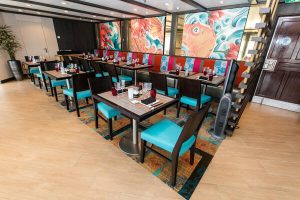 A true Far-East Feast! From sushi to sashimi and tableside preparation using Hot Rocks, Izumi offers guests an exotic Asian-inspired dining experience. At Izumi, items are charged a la carte. Enjoy a wide variety of hot and cold appetizers, entrees, desserts and more, all made-to-order with intense flavors, the best ingredients and impeccable presentation.  You'll be wowed by the fresh ingredients, delicate flavors, and gorgeous plating of Izumi's sushi, sashimi, ishi-yaki plates, and more Now that's fresh!
Bliss Cruise Jewel of the Seas – What's Included?
ACCOMMODATIONS: Of course your stateroom or suite is included.
AWARD-WINNING CUISINE: Your meals are included in the luxurious 3-level Main Dining Room.  Here the menu changes nightly.  Meeting new friends and inviting them to dinner is one of our favorite ways to hook up on a Bliss Cruise.
Also included in your Bliss Cruise Jewel are meals at the Windjammer Cafe.
Dining Options with an Extra Charge
Chops Grille Steakhouse – For one low cover charge you can choose any items off the menu from appetizer to dessert*
Giovanni's Table Italian restaurant – From pasta to branzino, this elegant Italian-inspired eatery is truly "A cut above the rest"
Izumi Sushi & Hot Rocks – A feast from the Far East! Say "Konnichiwa" to fresh-rolled sushi, and prepare for an exotic Asian-inspired dining experience.
POOLS: Jacuzzis, outdoor pools, and indoor Solarium.
FITNESS CENTER & CLASSES: Ultra-modern facilities with the latest high tech equipment, offering a holistic range of instructor-led wellness classes.*
ENTERTAINMENT: On Bliss Cruise Jewel of the Seas you will find a nightly themed dance parties, adult-only lifestyle entertainment and a packed daily schedule of sexy seminars and erotic education.  Also included are the daily meet and greets scheduled for almost every interest. In addition, there is also the ships regularly scheduled entertainment that includes everything from Broadway-style theatre to, comedy, magic, dance and live music – the best entertainment at sea.
TIP & GRATUITIES: All of your tips and gratuities have been included in the cruise cost. This includes the tips for the waiters, bartenders, and your cabin steward. Gratuity will be added into all drink purchases, unless you have a drink package. In which case it has already been added to the cost of the package. If you feel like you are getting good service additional cash tips are always appreciated.
NOT INCLUDED IN YOUR CRUISE FARE:
Flights, hotels & transfers – Check the "Pre-Cruise Options" for hotel & transfers.
Speciality dining
Shore excursions
Onboard drinks & dining packages
Laundry charges
Spa Packages & Sessions
Shopping Onboard
Phone & internet charges (if you haven't pre-paid these they will be automatically added to your SeaPass account)
Travel insurance
Bliss Cruise Jewel of the Seas – Pricing and Policies
Port Charges, Taxes, Gratuities and Fees:
Staterooms $375 per person
Suites $425 per person
Additional Person Cabin Cost
Staterooms $350 + $375 port charge/tax/fee
Suites $395 + $425 port charge/tax/fee
Monthly Payment Plans
Monthly payment plans are available. We aim to be as flexible as possible.
Please phone us to create a custom payment plan.
Bliss Cruise Jewel of the Seas – Cancellation & Penalties
*Payment schedule will be adjusted accordingly as we pass the dates set below.
Deposit: Due at the time of booking
Installment: Due on or before October 15, 2020
Installment: Due on or before March 15, 2021
Final Payment: Due on or before October 15, 2021
Cancellation Policy/Fees
On or Before March 15, 2021: $95.00 pp ($175 pp for Suites)
Mar 16, 2021 – Aug 15, 2021: $275.00 pp ($750 pp for Suites)
Aug 16, 2021 – Nov 15, 2021: $500.00 pp ($1000 pp for Suites)
After Nov 15, 2021: NO REFUND
* Cancellation policy dates remain the same regardless of your booking date.
Singles Policy
All cabins and bookings require double occupancy, one male one female.
Any person showing up at the port without their partner, may be denied access onto the ship and shall not be entitled to any sort of refund. On a case by case basis, Bliss Cruise may allow the individual to board with a penalty charge.
Single passengers shall be allowed on the ship in a cabin only when accompanied by a couple and staying in their cabin.
Additional Details Booking Details
The cabin cost includes all meals, except in specialty restaurants, and basic poured drinks such as water, coffee and tea.
Beverage and amenity packages are subject to automatic gratuity charge.
Special Offers
Any cabin purchased from Bliss Cruise, or one of its Travel Affiliates, is for the cabin ONLY. Any special pricing, promotions, offers or discounts of any type offered by the cruise line for one of their regular scheduled voyages are not part of the Bliss Cruise program and will not be honored. In addition, some cabins may have limited amenities during a Bliss Cruise charter.
We strongly recommend that all guests Purchase Travel Insurance
We recommend travel insurance.
Travel Insurance
Yikes, travel insurance is not a fun topic but a lot of you have asked…
This is about what happens if you are paid, packed and ready to go… and there is a problem.
The biggest 2 reasons people take insurance are:
Trip Cancellation
Medical Expenses or Medical Evacuation
Full Ship charters are better than regular cruises in many ways, however the penalties and potential for a loss if you have to cancel is higher. Shortly after final payment most full ship charter cruises become non-refundable. That means if you have to cancel your trip not only do you have that disappointment of a cancelled vacation, but I have to tell you you don't get your money back.
Our most popular insurance is 'World Wide Trip Protector' and provides full coverage when purchased up to 21 days after your vacation purchase.
The best value just to make sure you have coverage is 'Trip Protector Lite Expanded.'
We recommend Travel Insured – Get a quote and buy insurance  
Note: this link opens a window for Travel Insured – if you have questions pleases phone our office for assistance.
Please consider purchasing Travel Insurance
Since everyone pretty much likes me right now and I'd like it to stay that way, please consider purchasing travel insurance. Or at least don't say I didn't warn you if there is a problem.
Other coverages that take the worry out of travel:
Trip Interruption – Return air only
Trip Delay & Missed Connection coverage
Baggage Loss or Delay
Cancel for Work Reasons Options available on select policies
We strongly recommend purchasing travel insurance for your upcoming cruise. There are hundreds of circumstances that could cause you to cancel your trip, return home early or force you to seek emergency medical treatment while traveling. Travel insurance offers coverage for unforeseen problems such as, an unexpected financial change or scheduling conflict, a cancelled flight or a serious illness. You even have the option where you can cancel for any reason. We recommend Travel Insured – Get a quote and buy insurance
Bliss Cruise Jewel of the Seas – Terms & Conditions
The U.S. Department of Treasury's Office of Foreign Asset Control (OFAC) administers a variety of trade embargoes and economic sanctions programs that are applied to some countries. Currently, the most restrictive measures are imposed against the following Sanctioned Countries:
Cuba
Iran
Sudan
North Korea
Syria
U.S. law prohibits us from providing services and engaging in business transactions with individuals and entities located in or residents of these Sanctioned Countries. This prohibition also extends to doing business with Sanctioned Countries indirectly through third parties.
This means we cannot, either directly or indirectly through a third party market or sell cruise vacations, make bookings, reserve cruise tours or expeditions, and provide other travel-related services to individuals or entities located in or residents of these Sanctioned Countries.
Bliss Cruise Jewel of the Seas – Pre-Cruise Hotel
TheSwingerCruise will be hosting our VIP clients at one of the amazing hotels in the Miami area.
Once this information is ready, we will post it here for our VIP customers to reserve!
We will also plan a fantastic, free meet & greet at this location the night before the cruise. More information on that coming soon as well.
**Check back as the sail date approaches**