Bliss Spain Morocco 2022 – Itinerary
VIP Pre-Cruise for the Bliss Spain Morocco 2022 Sailing
Every fantastic cruise should always start with a fantastic pre-cruise! TheSwingerCruise.com takes Joy in providing our VIP clients with an experience of the highest standard. Meet fellow cruisers, enjoy local customs and cuisine, rest up from your long travels before having 'The Best F*cking Vacation!'
Details are still being worked out for this Pre-cruise. Once our plans are finalized, we will update this section with more information.
Bliss Spain Morocco 2022 – What To Expect?
Bliss Brings The Entertainment – Party The Night Away…
Bliss is known for their Caribbean cruises and the amazing pool parties and theme nights that come with them. They are packing up and bringing the entertainment across the pond on our Bliss Spain Morocco 2022 cruise!
Deluxe Amenities – Live the Luxurious Life at Sea…
Bliss Cruise is sailing on a leading luxury cruise line.  While we aren't supposed to list the name of the ship online, it truly is our favorite.  Give us a call and we will tell you all the reasons we LOVE it.
Breathtaking Dining Experience – Savor the sensual side to dining…
Bliss will delight you with a choice of six unique dining options, including room service. We absolutely adore all of the venues for their various reasons. The Main Dining Room is a fantastic way to meet other couples you are sailing with, the back deck of the buffet provides the most scenic casual dining we've found anywhere, especially at night during sail-away.  Both of the specialty restaurants are delicious, and the Chef Table is top of the line.
Bliss Spain Morocco 2022 – Theme Nights
The theme parties on this cruise are designed to help you step into expressing your inner desires.  Let go, immerse yourself in the fantasy of it.  Guests who dress in theme report more social interaction and more fun.
You can go all out on a costume or simply echo the theme with an accessory.  Not in the mood? No problem it's all about doing your own thing with your partner and having a wonderful time.
** Theme nights have not been announce for this sailing. Once our Theme Nights have been announced we will update this information **
Bliss Spain Morocco 2022 – What's Included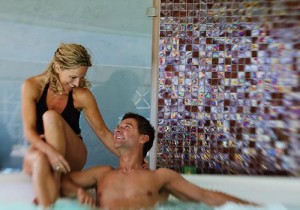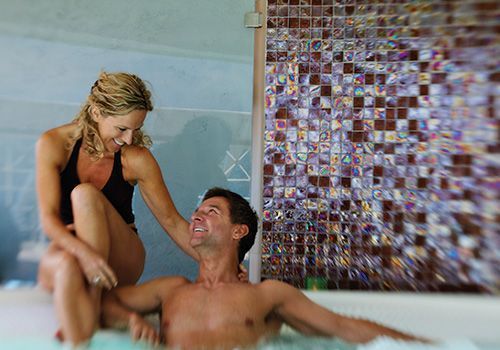 Our cruises are a great value, mostly because so much is included.  That means all of your meals at all the restaurants and room service. (except at the specialty restaurants where you will have a slight up-charge.)
Your theme parties and entertainment are included.  Expect electric pool parties by day, sexy theme parties each night and sensual playrooms to explore the more erotic aspects of this charter.
Tours off the ship and Spa treatments are not included, and you will want to budget a bit of extra $ for.
Wine is included at no additional cost with lunch & dinner.  
** Unique for our cruise – A Premium Beverage Package is included **
Once we get to the point where you have completed online check-in, experienced cruisers may notice a few things missing from the online check-in system.
Not available online thru online check-in:  drink packages, lifestyle shore excursions, specialty dining packages, and bundles.   
We want to make sure you know that what is included in a full ship charter is different than a regular Cruise. Just an FYI for you good research types, the details & prices listed on the cruise line's website do not apply to this charter.
*Your beverage packages can be upgraded on board at the time of check-in, in Barcelona, Spain.
Bliss Spain Morocco 2022 – Premium Drink Package: 
Included with your purchase
Spirits: Absolut, Ketel One, Stolichnaya, Canadian Club, Crown Royal, Jameson, Johnnie Walker Red Label, Captain Morgan, Myers's Original Dark, Tanqueray, Bombay Sapphire, Disaronno Amaretto, Kahlúa, Southern Comfort, and more…
Beer: Boddingtons Pub Ale, Bohemia, Buckler, Carlsberg, Corona, Dos Equis, Grolsch, Guinness, Heineken, Leffe, Murphy's Irish Stout, Newcastle, O'Doul's, Peroni, Pilsner Urquell, Red Stripe, Smirnoff Ice, Stella Artois, Strongbow, Warsteiner
Bliss Spain Morocco 2022 – Ultimate Drink Package: 
Upgrade to this package for a per person cost to be announced
All items from the Premium package, plus:
Spirits: Level, Belvedere, Effen, Cîroc, Christiania, Grey Goose, Tanqueray No. Ten, Hendrick's, Zacapa 23, Jack Daniel's, Maker's Mark, Baker's, Woodford Reserve, Knob Creek, Highland Park Aged 12 Years, Johnnie Walker Black Label, The Balvenie, The Macallan Select Oak, Laphroaig, Chivas Regal, Glenfiddich, The Glenlivet, Don Julio Blanco, Courvoisier VS, Courvoisier VSOP, Rémy Martin VSOP, B&B, Baileys Irish Cream, Bénédictine, Chambord, Cointreau, Drambuie, Grand Marnier, and more…
Wine: Martini & Rossi Asti, Domaine Chandon Brut Classic, Seaglass Sauvignon Blanc, DeLoach Chardonnay, Gabbiano Pinot Grigio, Beringer White Zinfandel, Trumpeter Cabernet Sauvignon, DeLoach Merlot, Callia Alta Malbec
Nespresso: Ristretto, Espresso Forte, Ristretto Origin India, Espresso Leggero, Lungo Forte, Lungo Leggero, Espresso Decaffeinato, Lungo Decaffeinato
Water: Evian, Perrier, San Pellegrino
Carry on Wine: As a possible consolation, the policy on carrying on wine is also quite relaxed.  We have carried on wine far in excess of the usual rule of 2 bottles per cabin.  We have also on past cruises restocked in port and carried on bottles of liquor.
Amenities Included:
Select house wine served during lunch or dinner only
Soft drinks, Bottled water, Specialty coffees and teas
Receive personal guidance and make reservations with your Personal Concierge
For Suite Guests:
All standard amenities plus:
Top-of-the-line English butler service
Complimentary Internet minutes on Ship's WiFi
Complimentary  bag of laundry service per suite, all seven days
Dining in all of the specialty restaurants
In-suite tea service in the Afternoon
Bliss Spain Morocco 2022 Cruise – Pricing
As always, the best pricing strategy is to book as early as you can. Cabin prices are released at their lowest rates and get higher as we get closer to sailing.
Suites sell out almost immediately.  Book Early
For up to date pricing please consult the online booking link.
Bliss Spain Morocco 2022 Cruise – Policies
*Reservation Policy* Please read this document carefully, and follow the instructions found in the confirmation e-mail. In case you need to change, cancel or do not show-up, this reservation policy will apply.
– Initial deposit required for a guaranteed reservation
– Full payment must be received by November 2021.
– Credit Cards Accepted: Visa, MC & American Express
– Charges will appear as: "Discount-All-Inclusive.com"
Bliss Spain Morocco 2022 – Balance Payment Calendar:
Deposit – due at time of booking
First Payment – June 1, 2020
Second Payment – March 1, 2021
Final Payment – November 1, 2021
Bliss Spain Morocco 2022 – Cancellation Policy:
*Cancellation Policy*
Cancellation up to June 1, 2020 – Full refund minus $125 USD p/p (Staterooms) and $250 USD p/p (Suites)
Cancellation between June 2, 2020 and March 1, 2021 – Full refund minus $350 USD p/p (Staterooms) and $750 USD p/p (Suites)
Cancellation between March 2, 2021 and July 1, 2021 – Full refund minus $750 USD p/p (Staterooms) and $1250 USD p/p (Suites)
Cancellation between July 2, 2021 and October 1, 2021 – Full refund minus $1250 USD p/p (Staterooms) and $1750 USD p/p (Suites)
Cancellation after October 1, 2021 – No refund will apply.
*Requirements* Due to new Government Regulations requiring cruise liners to submit final department manifests at least 60-minutes prior to sailing, guests are requested to complete their Online Check-in no later than 5-days prior to the cruise. Guests that have not completed their Online Check-in, will be required to complete this process at the pier, 2-hours prior to the published sailing time.
Please note: All guests must be checked-in and on board the ship no later than 60-minutes prior to the published sailing time or they will not be permitted to sail.
As always, we recommend travel insurance.
Bliss Spain Morocco 2022 – Travel Insurance
Welp, travel insurance is never a fun topic to talk about but a lot of you have asked…
We're talking about what happens if you are paid, packed and ready to go… and then there is a problem.
There are 2 big reasons people choose to take insurance:
Trip Cancellation
Medical Expenses or Medical Evacuation
Full Ship charters are better than regular cruises in many ways, however, the penalties and potential for a loss if you have to cancel is higher. Shortly after final payment, most full ship charter cruises become non-refundable. That means if you have to cancel your trip not only do you have that disappointment of a canceled vacation, but I have to tell you that you don't get your money back.
Our most popular insurance is 'World Wide Trip Protector' and provides full coverage when purchased up to 21 days after your vacation purchase.
The best value just to make sure you have coverage is 'Trip Protector Lite Expanded.'
We recommend Travel Insured – Get a quote and buy insurance  
Note: this link opens a window for Travel Insured – if you have questions pleases phone our office for assistance.
Please, consider purchasing Travel Insurance
Since everyone pretty much likes me right now and I'd like it to stay that way, please consider purchasing travel insurance. Or at least don't say I didn't warn you if there is a problem.
Other coverage options that take the worry out of travel:
Trip Interruption – Return air only
Trip Delay & Missed Connection coverage
Baggage Loss or Delay
Cancel for Work Reasons Options available on select policies
We strongly recommend purchasing travel insurance for your upcoming cruise. There are hundreds of circumstances that could cause you to cancel your trip, return home early or force you to seek emergency medical treatment while traveling. Travel insurance offers coverage for unforeseen problems such as an unexpected financial change or scheduling conflict, a canceled flight or a serious illness. You even have the option where you can cancel for any reason. We recommend Travel Insured – Get a quote and buy insurance